About a week ago, I realized what I'd written for my book since the start of the New Year wasn't working. The material just wasn't up to the standards of what had been done so far. It was a slow tedious bore with little imagination or artistry, at least by my standards. As the previous chapters were everything I had hoped, I knew it would be a disservice to end this story in a half assed way. I sat down and started to re-write my third act.
It seemed a mountainous task. I had written a full two and a half chapters. Would it be possible to get back the magic that birthed this story? It was time to be like an episode of ER. Break out the defibrillator and make this thing live!
Of course I'm no George Clooney when it comes to fictional medicine. It was going to take a lot of work to get this done. I had to cut out a lot of material and find what I could replace it with lest I be left with either two chapters that were too short, or one chapter that was too long.
Well, eight days later, I am pleased to report that many electrical shots later, chapters 14 and 15 of my book are alive and well. I trimmed a lot of the fat, re-wrote prose I didn't like, added dialogue to break up the descriptive passages, and created an overall much more readable experience for all. I'm most pleased with the final results.
As a bonus, my chapters were also not The Thing in disguise. Otherwise they would have bitten my hands off at the defibrillator machine.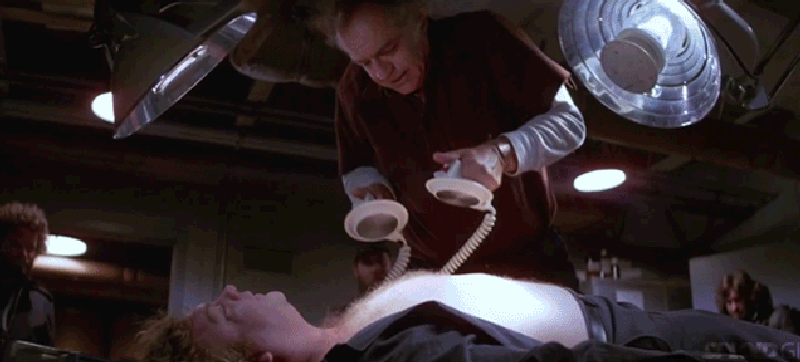 Yes, my story had not been taken over by a malevolent shapeshifting alien after all. As a writer, things have been looking up.
As an added bonus, I realized one of my character's actions didn't make too much sense so I wrote a few new lines of dialogue to fix it. As a result, I may have set up a nice little action scene or vignette to take place in the next chapter, ensuring it isn't just a 20 page long conversation. What a great time to be a writer, no?
I'm glad I had the skill to recognize when some of my own writing wasn't working. Because of that, I've saved myself a lot of trouble for the future. These next few chapters are going to be great fun to work on, and they will hopefully at long last bring this story to an appropriate and satisfying conclusion.
Until the sequel that is. Because I need to figure out what chapter The Thing is hiding in.